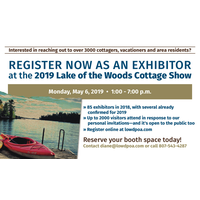 Exhibitor Registration now open for Lake of the Woods Cottage Show
Monday, May 6th, 2019 1:00PM - 7:00PM
Victoria Inn, 1808 Wellington Avenue, Winnipeg
Register early!
✔ Connect directly with 2000 attendees
✔ Listing in show promotion in two issues of Lake of the Woods Area News
✔ Posting on lowdsa.com with link to your website for one year after show
✔ Acknowledgement in mailing sent to 3,200 LOWDSA families
✔ Electronic postcards & social media creative for your own use
✔ Professional booth set-up & support
If you already know you want to join us for our 2019 Lake of the Woods Cottage Show and were just waiting for the registration form, all you need to do is to complete it and email or mail it to us with your deposit fee or full payment. If you need a little more information read on or give us a call.
If you own a business providing services in the Lake of the Woods area, and want to reach the huge market of seasonal residents, there is no better opportunity providing great value and real returns on your time and investment than exhibiting at our annual Cottage Show!
Showcase your products and services to over 1500 LOWDSA members who attend the show
For more info go to https://www.lowdsa.com/cpages/cottage-show. or email LOWDSA
---