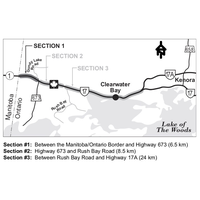 Moving forward on twinning (4-laning) Highway 17 from Manitoba/Ontario border to Kenora.
It looks like the wait is over and important first steps taken.
WSP Canada Group Limited, on behalf of the Ontario Ministry of Transportation (MTO), is undertaking Planning, Preliminary Design and Class Environmental Assessment (Class EA) Studies to review options for the four-laning of Highway 17 between the Manitoba / Ontario border and Kenora. The studies will identify a preferred option for a four-lane divided highway corridor based on an evaluation of alternatives. Separate studies are being carried out for the three sections as shown here.The first proposed project is Section 1 extending from the Ontario/Manitoba border easterly 6.5 km to Highway 673.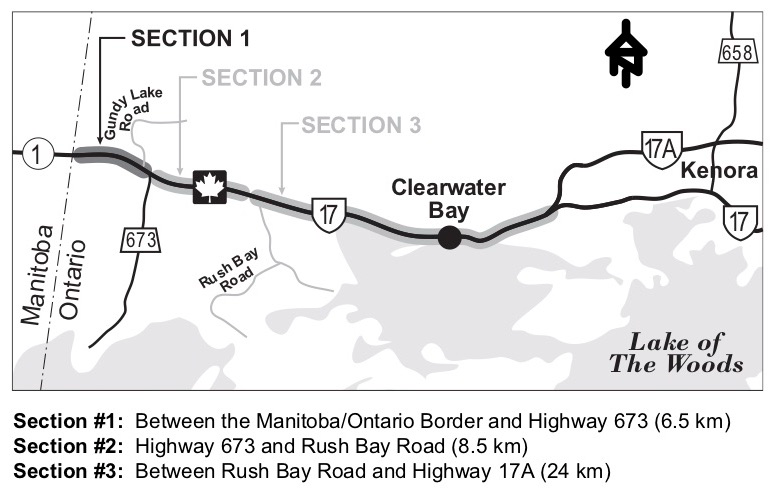 The preferred route for 4-laning of Section 1 of Highway 17– from the Manitoba border to Highway 673 (Shoal Lake Road) - as well as other route alternatives and the rationale for the recommendation were presented on a series of display boards in Kenora on November 20, 2018. The Public Information Centre (PIC) was well-attended with ministry and consultant representatives on hand to answer questions.
View and download the full set of display boards here.
Make your voice heard and submit your comments on Section 1 NOW! The 4-laning Highway 17 recommendation for Section 1 and all materials presented at the PIC, now available online, are openfor public comments until Wednesday, December 19, 2018. Details on how to comment here.
Stay informed and involved! There are a number of ways you can keep on top of what is happening with highway twinning.
Bookmark www.lowdpoa.comand check our news page regularly.

Watch for LOWDPOA eNews bulletins (Make sure we have your email address if you would like to receive these).

Call, email or write to us if you have questions or comments you have submitted to the ministry that you want LOWDPOA to be aware of (or even ones you have not submitted that you would like to share).
You can also sign up with MTO to receive mailed notices, which is a great idea. However, those bulletins may not be as frequent as our updates and the content may not be as specific to LOWDPOA members as ours will be.
It's not too early to submit comments on Sections 2 and 3. If you have comments, suggestions or questions for the ministry and consultant, or simply want to be added to the study mailing list use the same contact info as above to contact the ministry and consultants.
The process and timeline are in accordance with the requirements of the MTO Class Environmental Assessment for Provincial Transportation Facilities 1999 as amended in 2000 for Group 'B' undertakings. The process is approved by the Ministry of Environment, Conservation and Parks (formerly Ministry of the Environment) for the planning and design of provincial highway projects. External agency, Indigenous community engagement and public consultation will take place throughout the project to present study findings. An overview of the Class EA Process and opportunities for consultation and engagement are depicted here.
Next steps and timeline:The ministry and consultants will review comments submitted, finalize the recommended plan, complete a preliminary design and prepare a TESR (Transportation Environmental Study Report) for a 30-day public review period. At that time, a Notice of Submission will be published in local newspapers and posted on this website to explain the review process and identify locations where the TESR can be reviewed.
The operating construction schedule for the first section, a 6.5km stretch from the Manitoba/ Ontario border and Highway #673, is Fall of 2019.
The tentative schedule for the EA / design studies and related opportunities for consultation and engagement – and construction – is illustrated here.
Your next opportunity for public review and comment will be when the TESR is published in February 2019. LOWDPOA is already talking to MTO about the scheduling of a public session in Kenora. While the ideal timing to hold a public meeting would be in the summer, this first TESR must be held in February if we hope to see construction begin in 2019. We have requested that the session be held on a weekend, but at this point that is not an option for the ministry so we asked that it be held on a Friday if possible with Monday as a second choice. (Note: we haven't totally given up on that weekend request yet.)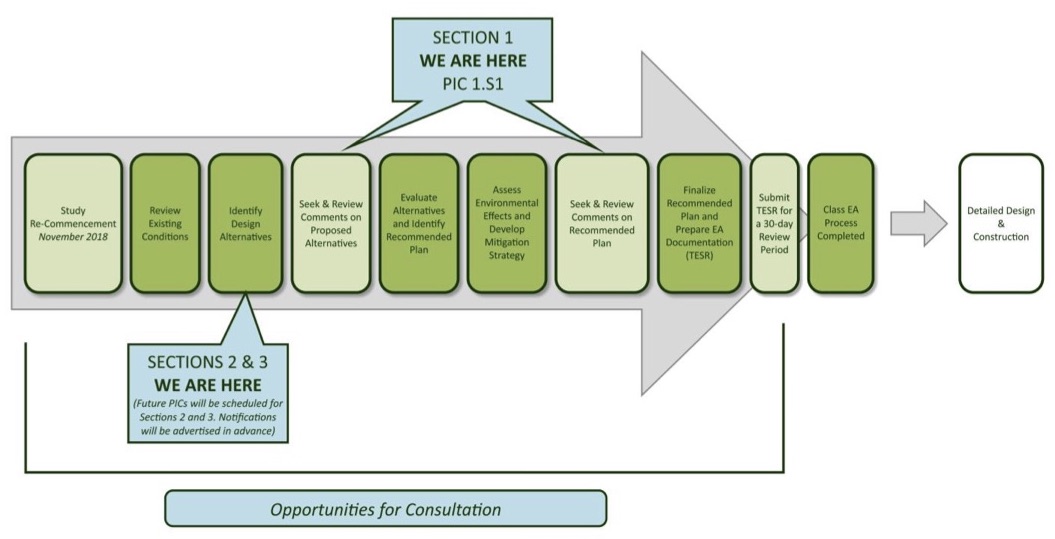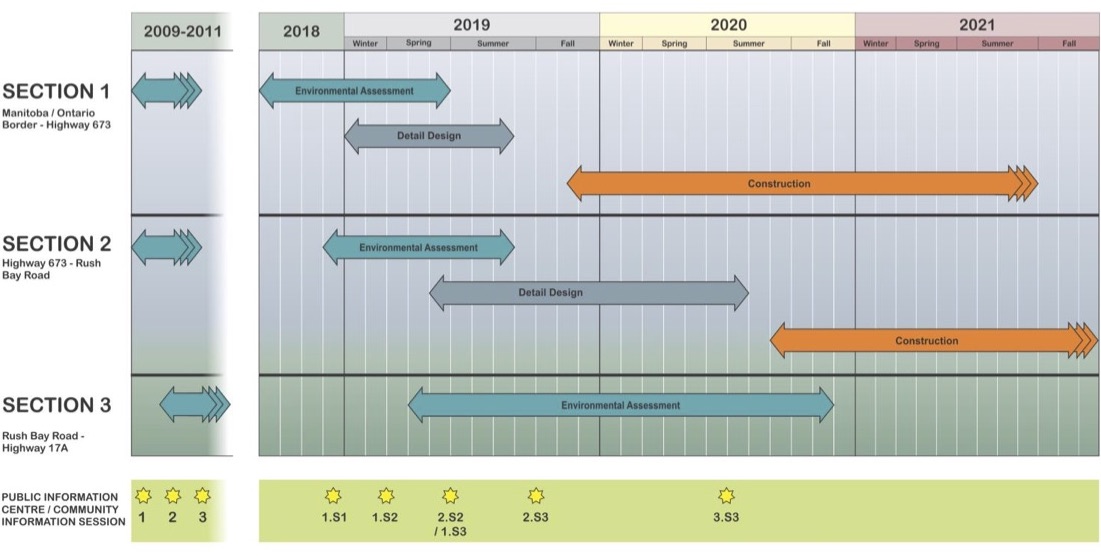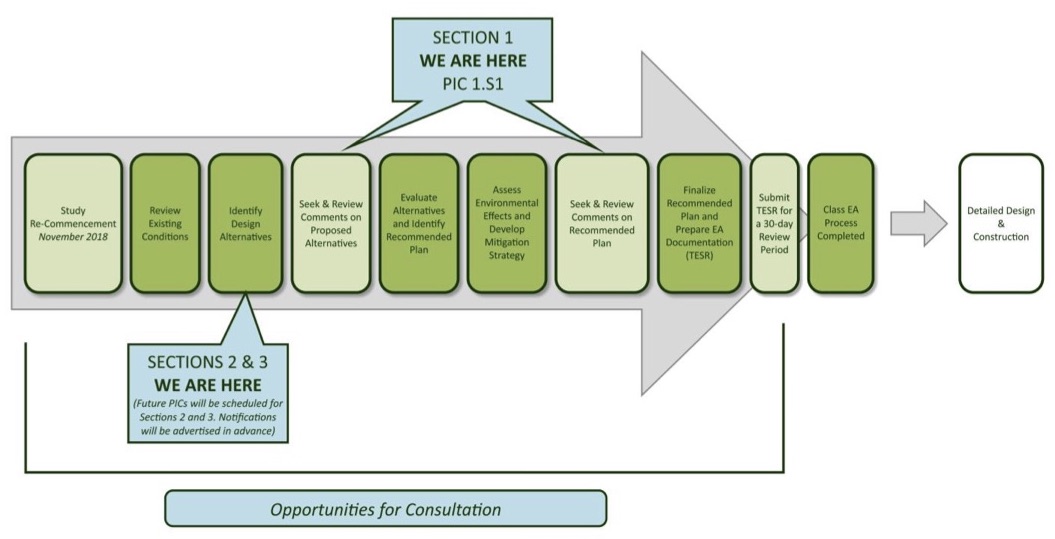 ---