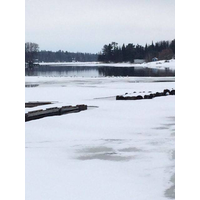 Lake levels & freeze up: Comments from Jack McKenzie, longtime representative for LOWDPOA to Lake of the Woods Control Board:
The lake is starting to crust over with ice, and it is looking like we will have a slightly earlier than usual ice cover.
That's not good as the ice will form higher than we want on docks and shoreline structures. Then, when the level is drawn down over the winter towards a spring target level, we run a higher risk of damage to docks etc.
I had hoped we might get away without having to open the Norman Dam past 700 Cubic Meters per second flow but from the latest report out of the Water Board, they have gone to 800 CMS. That will put Minaki up about 10 inches.Until they go past 700 CMS, the water level at Minaki is not effected.
The Lake of the Woods is about 7 inches higher than anyone wanted, come ice over, and they project a further increase this week of an inch.
Looking up stream at conditions on Rainy Lake and Namakan, I don't see much relief from that direction any time soon.
It would be nice to think that with the outflow at 800 CMS, that conditions on the lake would improve before we get too far into winter but it doesn't look promising.
With the outflow where it is - about twice normal - there may be problems with the current undercutting the ice so as to make it dangerous for ice roads and snowmobile trails over the lake.
Executive Director's note:.LOWDPOA is lucky to have Jack McKenzie attend LWCB (LOW Control Board) meetings on our behalf. HIs knowledge and understanding of lake levels and factors impacting them is extensive.
#LakeLevel #FreezeUp #LakeoftheWoodsIce
---