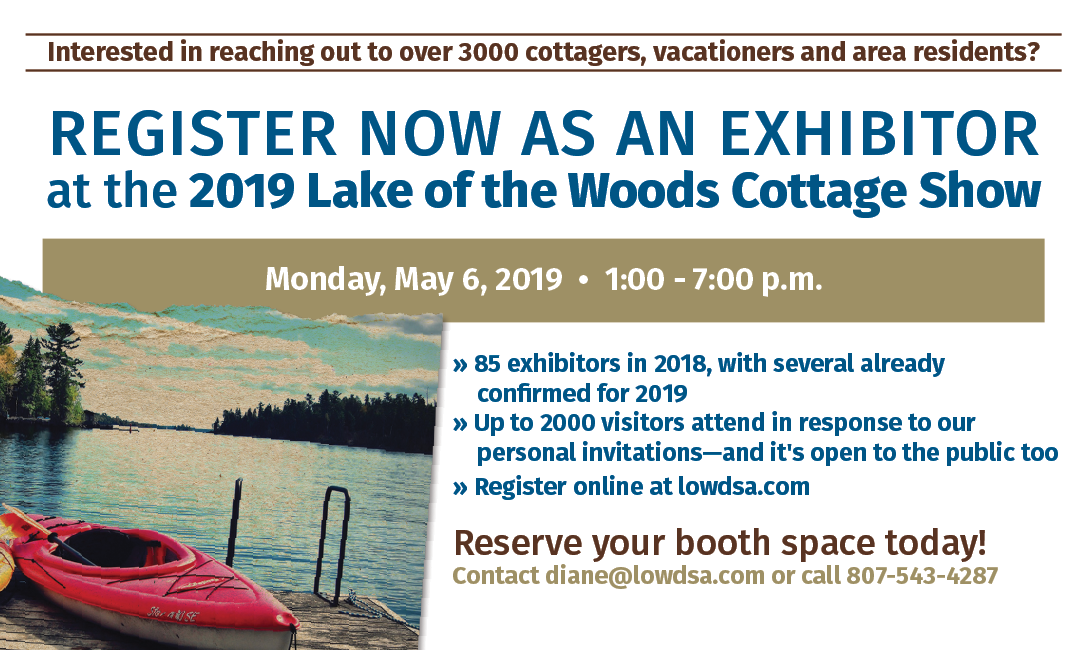 2018 Lake of the Woods Cottage Show  Confirmed: the best way to kick off 'lake season'!
Over 85 exhibitors; 200 or so exhibit staff and LOWDSA volunteers, director and staff; collectively, hundreds of hours of planning and prep; and the Lake of the Woods Cottage Show opened its doors to LOWDSA members and friends at 1pm on Monday, May 7th.  Judging by the overwhelmingly positive response from visitors and exhibitors, it was definitely worth the exhibitors' efforts, and visitors were rewarded for coming inside on a beautiful summer-like day. The variety of goods and services on display was extensive, and all the bases for lake life were covered.  
Dozens of visitors arrived early and waited patiently for the doors to open, with hundreds more (over 800 that we managed to count) following in a steady stream right up until the show ended at 7pm. It was a busy afternoon for exhibitors as they answered questions, shared knowledge, demonstrated products and even made some sales.  With so many exhibits to check out, visitors were busy too, but there was still time for visits with old friends, chatting with LOWDSA directors and staff, and gathering info on living green at the lake from the LOWDSA environmental exhibit.
A new addition to the Cottage Show this year was a series of info sessions that were held hourly on a number of topics including estate and cottage succession planning, choosing the right water system, fire extinguishers, AED's and first aid.  Thanks to the knowledge of our presenters – Mona Brown, Darcy Wolframe and Gerry Desjardins -  and to the interest displayed by visitors, these sessions were well attended.  Based on the popularity of these info sessions, you can look to see this repeated and perhaps expanded upon next year. 
The credit for another successful Cottage Show is shared with the many individuals, organizations and businesses who work so hard and long to prepare for the event. It is the support of LOWDSA members, Lake of the Woods area businesses, service providers and municipalities who make an effort to attend and exhibit during the Cottage Show that make the event what it is.  Collectively, we are able to bring Lake of the Woods and Kenora to Winnipeg for the day to welcome back our summer residents and visitors. As always, we welcome the participation of other lake-oriented businesses and organizations outside of the Lake of the Woods area who join us in Winnipeg, expanding the show's scope.    
We are already talking 'next year: bigger and better'.  If you have some ideas or suggestions to add to the mix, we would love to hear from you.  Contact us at info@lowdsa.com or 807-543-4287.    
List of 2018 Cottage Show Exhibitors >> Click here
2018 Media sponsor: