What It's All About  |  Our Team  |  Ask Us About...  |  Where We'll Be  |
LakeSmart is a community outreach program unique to our area. It is designed to offer information to shoreline residents and anyone who enjoys the lakes and environment on ways that they can "live and play green" at the lake.
So What's It All About?
The program core is the provision of information on shoreline buffer zones, reducing run-off, using eco-friendly cleaning products, safe boating, and preventing the spread of invasive species, with some specific attention to providing information on septic and waste disposal systems. 
Lake of the Woods alone has over 105,000 kilometres of shoreline, and in our 7th season, our team will again be travelling dock-to-dock along its shoreline with island stops as well. The LakeSmart team will also be visiting waterfront properties on many of the smaller lakes in the district, often in conjunction with their respective association events. Look for them at local area events such as Matiowski Farmers' Market, Canada Day, and Harbourfest, in Sioux Narrows-Nestor Falls, at the annual Laclu Regatta and maybe even at your lake or event. We are open to all invitations!
Our LakeSmart program and Invasive Species Outreach is only possible through the support from LOWDPOA member donations to the Environment Fund and our generous sponsors Woodlake Marine, Q104 Kenora Online, Ontario Power Generation, Federation of Ontario Cottagers Association (FOCA), the City of Kenora, Cabin Country Realty, Copperfin Credit Union, Garriock Insurance, Lake of the Woods Water Sustainability Foundation, LOTW Septic Barge, Talbot, St. John Ambulance and Ontario Federation of Anglers & Hunters (OFAH).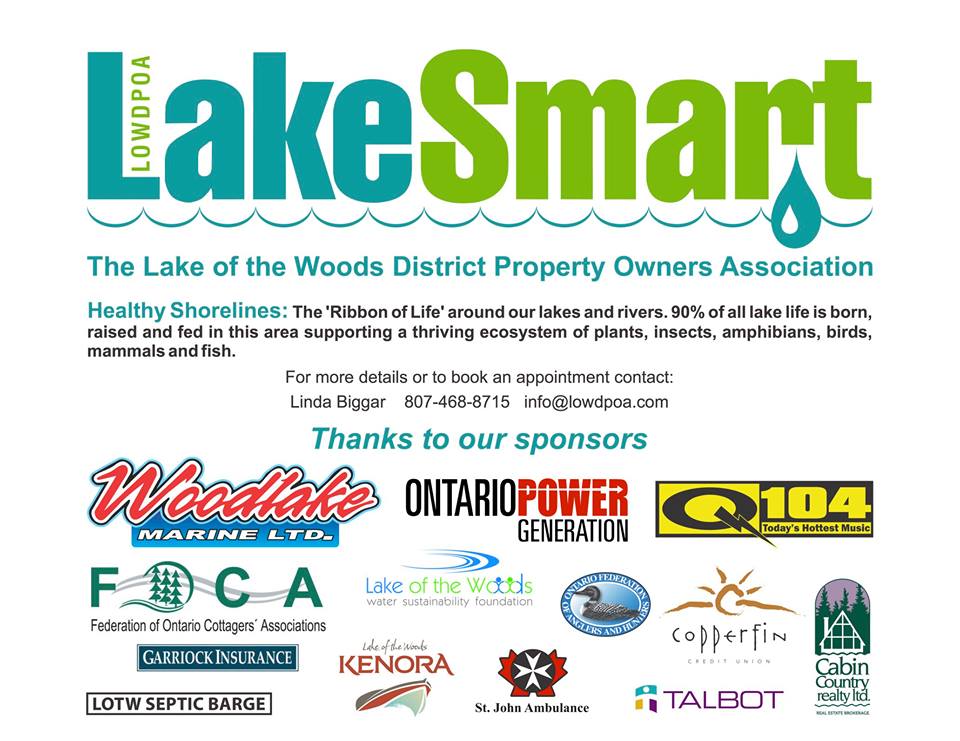 Introducing the 2017 Team
We had a great LakeSmart team last year, but they have completed their studies and moved on to full-time employment which opened up an opportunity for a unique and appealing summer job for a brand new team. We are excited about introducing you to Krista Robertson, Reed Cupeiro and Kylee Neniska, and hope you get to meet them this summer on the lake, at your dock, at the Farmers' Market or at another event. Check out our  Team page to learn a little more about them.
Our LakeSmart Ambassadors, Krista, Reed and Kylee, will be out on the lakes and at area events from July 1 until August 19, 2017. Representing LOWDPOA, they will be spreading the word about being more sustainable in our stewardship of land and water and sharing practical knowledge that leads to a healthier lake ecosystem. 
Look for the LakeSmart Team
Coming to a Shoreline Near You
Watch for the LakeSmart boat on the water or the team at events and be sure to say hello.

Interested in having the team visit your property, attend your event or visit your lake? Visits can be scheduled by calling (807) 468-8715 or through info@lowdpoa.com (even if you are not a member of LOWDPOA).